I'm sure there are plenty of you "addicts" out there who are counting down the days until
Kiss the Sky
is released.
To help distract you for a bit (as if that's possible), I got together with Krista & Becca, held them hostage for a few days, and gathered some intel. Right down below, you will find a short interview with Krista & Becca where the readers got to ask the questions.
Virgin. Sex addict. Daredevil. Alcoholic. Smartass … Jackass. Her five friends are about to be filmed. Reality TV, be prepared.
Rose Calloway thought she had everything under control. At twenty-three, she's a Princeton graduate, an Academic Bowl champion, a fashion designer and the daughter of a Fortune 500 mogul. But with a sex addict as a sister and roommate, nothing comes easy.
After accepting help from a producer, Rose agrees to have her life filmed for a reality television show. The Hollywood exec is her last chance to revive her struggling fashion line, and boundaries begin to blur as she's forced to make nice with a man who always has his way.
Twenty-four-year-old Connor Cobalt is a guy who bulldozes weak men. He's confident, smart-as-hell and lives with his equally ambitious girlfriend, Rose Calloway. Connor has to find a way to protect Rose without ruining the show. Or else the producer, who's never been denied a thing, will get what Connor has always wanted—Rose's virginity.
This New Adult Standalone Romance can be described as Friends meets The Real World. Expect fist fights, drugs, sex of varying degrees, crude humor and competitive alpha males. Definitely for mature readers audiences only.
COMING JANUARY 24TH 2014
So, I'm going to go bold and big.
The bold: I'm going to go ahead and call it and say that I love
Kiss the Sky
. Yes, it hasn't been released yet and the ARCs haven't been distributed; so, I haven't even read it yet. But I already know I'm going to love it! Am I putting my expectations too high? Maybe. But Krista & Becca have such amazing talent and skills that there is no doubt in my mind that
Kiss the Sky
will be phenomenal!
The big: At the end of this interview, there is a giveaway with not one, but
7 winners!
6 of the 7 lucky winners will receive an eBook (Amazon or Barnes & Noble) of
Kiss the Sky
upon its release date. One grand prize winner will receive a $15 Amazon Gift Card, an eBook (Amazon or Barnes & Noble) of
Kiss the Sky
on release day, and a signed paperback copy of
Addicted to You
.
Now, without further ado, let's find out more about our favorite duo!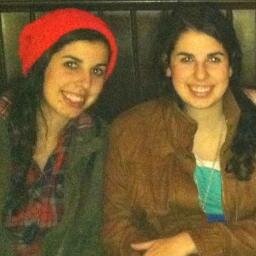 Becca (wearing the red hat) & Krista (sporting the brown leather jacket)

Q1: Do you have any personal experience to pull from or do you personally know someone who suffers either of these addictions?

Becca

:

Our family is very fortunate and we're very fortunate to have never suffered from either addiction. Whenever someone tells us that we did the addictions right—it means the absolute world to us. Krista and I are very empathetic at heart, and I think being twins has been a cause of this, as weird as that may seem. As a twin, you sort of get pushed to the side in group settings, and you become more of an observer. It's very easy to see the heartbreak in people, in situations and dialogue when you're out of focus and not under a spotlight

Q2: Are there any hopes for a book 1.5 for either of the spinoffs?



Becca

: It's going to depend on the reception of the spin-offs! If everyone likes them, then maybe. We'll see. Everything is up in the air! We try not to close any doors, and that one is slightly ajar.



Krista

: Like Becca said, we really don't like closing doors. But we're also excited to start new books with a different cast of characters. So if spin-offs or other novellas happen, they may not happen right away.

Q3: Is it difficult to write the male POV? Do you have a guy's input for those parts?



Becca

: We didn't have any male input, but I'm sure all the guys in our life—or that we've crossed paths with—have helped us understand the male psyche a teeny tiny bit better. It wasn't as hard as I thought it would be, but I would be lying to say we weren't nervous putting Loren Hale's POV out there. I was biting my nails once we sent Addicted for Now adrift!



Krista

: Having an older brother probably helps as well. He's two years older, adventurous and outgoing. We visited him a lot during college and stayed at his house with his (male) roommates, so we had some perspective on how twenty-something guys interact and what they're language is like.

Q4: It is pretty clear that Connor is good for Rose. She has let him into her life, but will we see more of why Connor needs Rose? Will his relationship with Rose effect the foundation of his incredible self-confidence?? In other words will we see a vulnerable Connor Cobalt?



Becca

:

I love this question! You'll definitely come to understand why Connor needs Rose in his life and how she affects him for the better. His character has tremendous growth from start to finish. Maybe even more so than Rose. Connor is most vulnerable when his odds are poor, when the risk outweighs the benefit. And you'll see that come into play quite a bit. Being on a reality show and under the thumb of production—who just want high ratings—doesn't help. He can only control so much in that situation.





Krista

: Becca's answer is honestly perfect! Kiss the Sky is a thrill ride, and you'll see all the sides of Rose and Connor that you can't when they're secondary characters.

Q5: Has it always been a dream for the two of you to write a book? And what makes you decide to be tandem and not write your own books?



Becca

:

Yes! It's been my dream since I was 12 and I started scribbling a story on a notepad. And then I switched over to a chunky laptop and saved my first full book on floppy disks. I never stopped writing, even though I knew I'd most likely have to find a job that wasn't such a dream. We've written books separately, but it's not as fun or rewarding. And I think we both can agree that we write better together. Where I'm weak in areas, she's stronger and vice versa. We level each other out. I can't imagine not writing with Krista anymore.





Krista

: I agree, definitely not as fun and rewarding! I actually didn't have this dream until late into college. My dream was always to go to medical school and be a doctor. I went through the entire process: volunteering, shadowing, genetics research, honors thesis, MCAT, and even had an interview. But after we published Addicted to You, I started understanding that my dreams were changing. What I wanted to do had changed. And to be living this new dream is a blessing that I wouldn't change for the world.

Q6: How do you divide the workload? Do you write side by side?



Becca

:

If we're stuck on a scene, we'll let the other one finish it. But typically we're working on different books at the same time, and then we'll switch halfway through and let the other person take over. It's an odd process, and it's kind of complicated to describe. Some books we have in pieces and we have to fit it all together like a puzzle by the end. It's really strange! When we're together, we write in the same room, but Krista only writes in chairs. She can't write sitting on a bed, on a couch or anything. So I don't sit beside her… *turns to Krista* You should sit beside me!





Krista

: Haha! I wish I could! I swear I can only think coherently in a chair.

Q7: Have you ever experienced yourselves wherein you both can't reach an agreement when you're discussing something about the book you're working on? So how do you go about this in order to reach a decision?



Becca

:

We pull each other's hair. Just kidding :) We discuss every single aspect of our books, and sometimes the disagreements come down to the structure of one sentence. We'll ask a third party's opinion if we can't work it out, but usually we just keep talking until we find a good compromise or better solution.





Krista

:

Yep! It's either compromise or start fresh :)



Q8: Which character is closest to your personality? Lily, Rose, or Daisy?



Becca

:

I think it would be fun to answer this for each other. So for Krista, I'd say she's most like Rose. Krista is wildly ambitious and driven like Rose, extremely, extremely intelligent (she was accepted to med school!), and she only dates smart guys. But she's not argumentative like Rose at all. She never sweats the small stuff, and she doesn't take negative things to heart. She's definitely a peacemaker like Daisy. Growing up, she was the one who stopped me and our older brother from fighting.





Krista

:

Oooh! Fun question! Becca is definitely a combination of all three. She's a huge advocate of feminist rights (she can talk your head off about female agency) and so in that sense she's like Rose. But she's a comic book lover and often goofy like Lily. And she's also impulsive and a little bit of a free spirit like Daisy. And maybe a minor daredevil. I don't think she'd jump off a cliff, but she's not afraid to take some risks. I refused to try snowboarding and Becca dove headfirst into it. She ended up breaking the ski lift (her more embarrassing tale) but she tried it anyway :)



Q9: If you were given a chance to act a certain character in your books, who would it be and why?



Becca

: I'd want to play Daisy, I think. She'd probably do a ton of cool "adventure" type of stunts and scenes. Although, I despise heights… Maybe that wouldn't be a good choice! But I do like the progression of her relationship—from crush to friends to flirty friends and then…who knows? It hasn't been revealed yet, but we can't wait to share it in HOTHOUSE FLOWER. Let's just say whoever plays Ryke, opposite me (in this dream world), would most likely be hot. So I am not against flirting with a hot guy and praying that he kisses me. (Or maybe Daisy will kiss him first… I tease, I tease!)



Krista

:

I'm a terrible actress, and I think whoever would play Lily (in this dream world) would have to be phenomenal in order for people to sympathize with her. It would be lots of fun to play Rose. I can't be a supreme bitch in real life because I just feel too guilty for hurting people's feelings, so to act like one without consequences would be pretty fun.





Thank

you

for

the

awesome

questions

!





Thank you Krista & Becca for always taking the time out of your very busy day to socialize with us! And thanks very much to all the readers who participated and sent in their questions! This couldn't have happened without your help and continued support! :)

❤❤❤

GIVEAWAY TIME!!!

❤ KISS THE SKY GIVEAWAY ❤

Open Internationally.
Void where prohibited by law. Must be 18 or over to enter.
6 winners will get an eBook (Amazon or B&N) copy of KISS THE SKY on release day.
1 grand prize winner will get a $15 Amazon Gift Card,
an eBook (Amazon or B&N) copy of KISS THE SKY, and a signed paperback copy of
ADDICTED TO YOU




a Rafflecopter giveaway